Modern Meets Traditional Toughness
A century of head protection innovation defines the Bullard CEN10™ Helmet. Designed to provide wearers with the reliability, comfort, and toughness expected from a Bullard industrial hard hat.
Features
As the most recognized piece of safety equipment on any worksite, the safety helmet is the symbol of toughness and pride. We have always focused on the safety aspect when designing a protective helmet. Today, the CEN10™ by Bullard brings style, safety, and comfort to a new level with the look that the workers love.
Sports the distinctive Bullard 3-rib trademark design that is easily recognizable on worksites across the globe.
The modern matte finish surface with polished smooth lines design makes the CEN10™ helmet look stylish and unique.
This helmet is expertly designed to provide the highest level of protection to workers with a 3-point chinstrap for a secure fit when working at heights.
---
Bullard Hygienic-Comfort Technology
Specially made of moisture-wicking fabrics, which absorb sweat quickly.
Superior breathability for all-day comfort.
Easily removable from the helmet, which allows user to wash them at any time and prevent bacteria growth on the skin.
The CEN10™ helmet comes equipped with Accessory Slots for a variety of attachments.
Add face protection with Bullard's model 312B dielectric bracket that can be used with any Bullard visor, which conforms to ANSI/ISEA Z87.1 standard.
Face Protection
Visor, Acetate, Chemical Resistance, Z87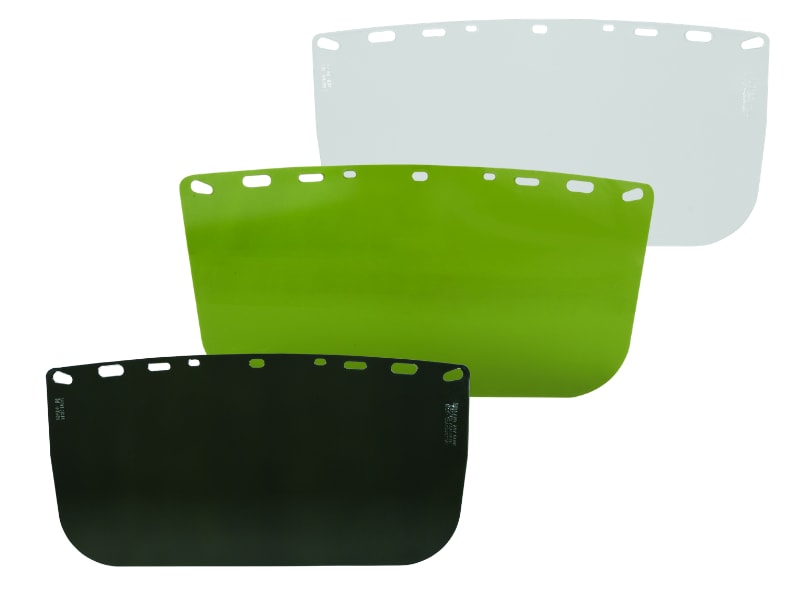 Visor, Polycarbonate, Impact and High-Heat, Z87+
Visor, Tritan™️, Chemical Resistance and Impact, Z87+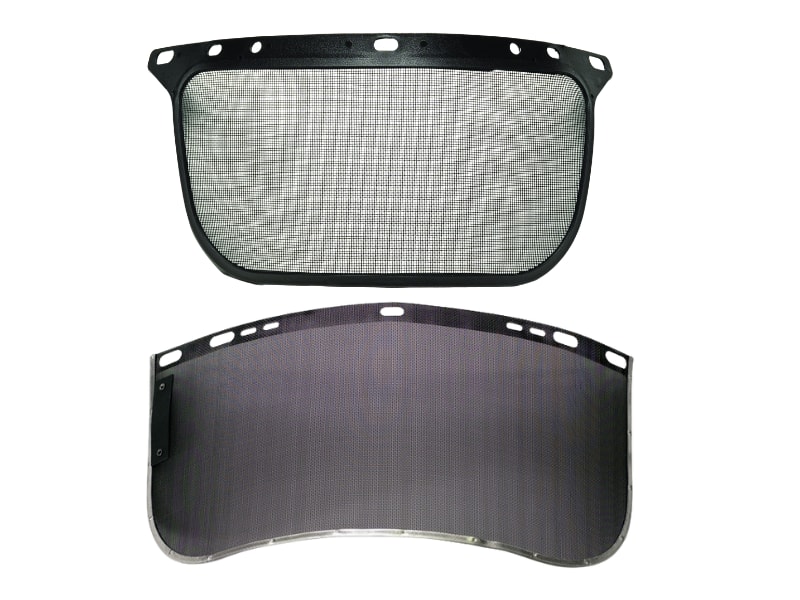 Visor, Mesh, Fog-free, General use, Z87-s special purpose
Multiple Lighting Modes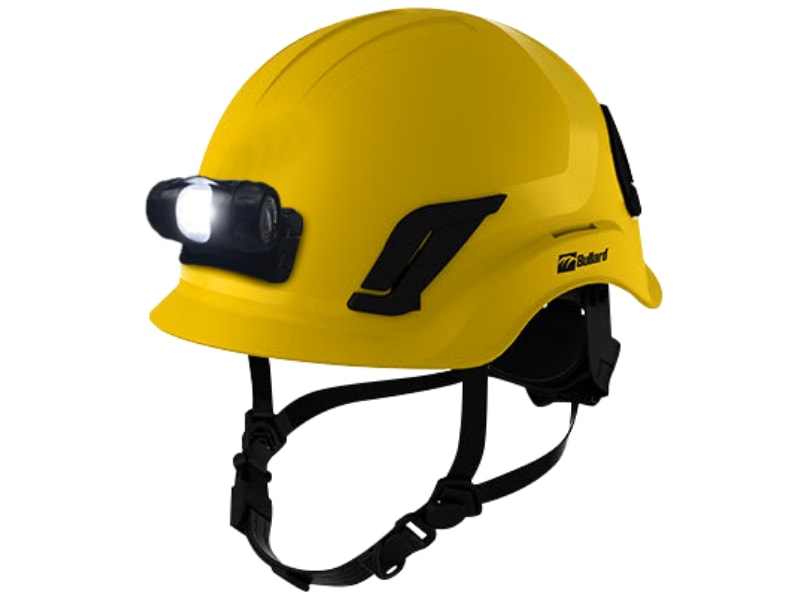 LiteVX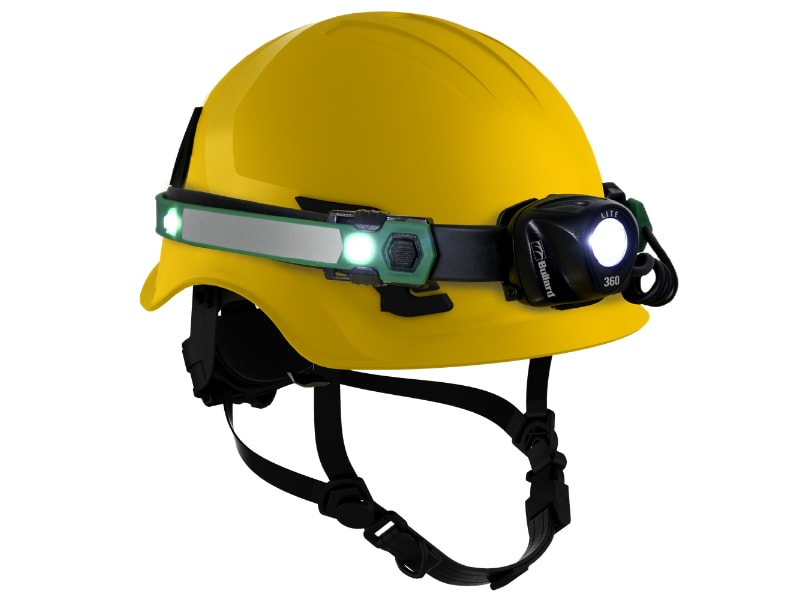 Lite360
Frequently Asked Questions
How is the CEN10 different from a traditional hard hat?
The CEN10 is a hardhat designed to be modern and comparable to a helmet worn in sporting activities such as rock climbing, kayaking, etc. Unlike traditional Type I hard hats, CEN10 is little to no brim, has a foam insert rather than a suspension, and comes with a built-in chinstrap.
What are the different "Types" of hard hat?
A Type I hardhat provides for protection from blows to the top of the head ONLY based on standards provided by ANSI/ISEA in the United States. These hardhats typically have a strap suspension inside, but this is not always the case.
A Type II hardhat provides for protection from blows to both the top and to the sides of the head based on standards provided by ANSI/ISEA in the United States. These hardhats typically have a foam insert to allow for side impact protection.
The CEN10 and other "Climbing Style Hats" have foam inside, does this mean they are Type II and provide side impact protection?
Although Type II hardhats typically have foam inside, all hats that have foam do not necessarily provide Type II protection. Many of these new hats are Type I despite having foam inside. You should always check the label or verbiage inside the hardhat to verify which "Type" the hat is.
The foam inside covers part of the side of my head, does it not provide any side impact protection?
This foam on the side of the CEN10 may provide additional side impact protection when compared to a Type I hardhat, but it does not meet the qualifications for a Type II hardhat. The extent of side impact protection for the CEN10 today is currently being tested in our facilities.
The label inside the hat mentions "Class." What are the different classes and what do they signify?
"Class" for hardhats is a measure of the hat's ability to resist electrical current and is also determined by standards provided by ANSI/ISEA in the United States. Hardhat classes include Class E (Electrical), Class G (General), and Class C (Conductive). Class E is the highest electrical rating and the hats are tested to 20,000 volts. Class G is tested to 2,200 volts. Finally, Class C does not provide for any electrical protection.
What class is my CEN10 helmet?
The CEN10 is currently available in both vented and non-vented. The vented CEN10 is Class C, while the non-vented CEN10 meets Class E & G.
Are Safety Helmets the Best Fit for Your workforce?
To answer quickly…if you are looking to improve safety, comfort and increase productivity, a safety helmet may be just what you are looking for.
Read More
Ordering Information
| | Non-vented | Vented |
| --- | --- | --- |
| White | C10NWHAMR | C10VWHAMR |
| Dove Grey | C10NDGAMR | C10VDGAMR |
| Yellow | C10NYLAMR | C10VYLAMR |
| Hi-Viz Yellow | C10NHYAMR | C10VHYAMR |
| Orange | C10NORAMR | C10VORAMR |
| Red | C10NRDAMR | C10VRDAMR |
| Kentucky Blue | C10NKBAMR | C10VKBAMR |
Get in touch
We'd love to hear from you. Drop us a line or give us a call if you have any questions.
The Office
Address: 1898 Safety Way Cynthiana, KY 41031
USA Toll Free: 877-BULLARD (285-5273)
Phone: +1-859-234-6616
Fax: +1-859-234-8987
Business Hours
Monday - Friday 8am to 6pm (EST)