Filters the air you breathe.
Helps to protect you from exposure to particulates and biological aerosols including viruses and bacteria.
Quick Ship
Made in KY, USA
"PAPRs have been a life saver for me and something all healthcare professionals should consider."
Steven A. Johnson, MD, FACS
Director, Surgery and Surgical Critical Care
Capital Health Medical Center Hopewell
PAPR Growth Trajectory
PAPR usage in healthcare is on an upsurge. It offers a high level of protection, comfort, cost-saving, and convenience.
Splash and respiratory protection in one system.
No breathing resistance; cool & comfortable free-flowing breathable air.
Assigned Protector Factor (APF) 2.5x greater than an N95 mask.
Reusable components help reduce protective equipment waste.
No fit test; beard approved.
Free from tight-fitting respirator abrasions & skin conditions such as dermatitis.
Salus HC
Comfort Designed For All Clinicians
SALUS HC [ sey-luh s ] is named for the goddess of safety and well-being. A high performing respiratory solution designed to protect clinicians from exposure to particulates and biological aerosols including viruses and bacteria.
SALUS HC system is optional with the LF-Series Hood that incorporates a built-in HEPA panel. The HEPA panel provides protection from up-splashes and from aerosols generated from your oral and nasal cavities.
Out-of-the Way Breathing Tube
Hood design is stethoscope
compatible and combats wind noise
Convenient for Pre-Hospital
Unlike patient care in the controlled environment of a healthcare facility, care and transports by EMS presents unique challenges. The nature of the setting, enclosed space during transport, frequent need for rapid medical decision-making, interventions with limited information, and a varying range of patient acuity and jurisdictional healthcare resources all demand uniquely convenient and comfortable PPE. SALUS HC meets those demands.
All-in-one on-the-go respiratory protection
Designed to fit close and high to the body
Short breathing tube helps to prevent snag hazards
Uninhibited range of movement
Soft yet durable foam molds to all body types, in all situations including Ambulance, Helicopter & Emergency Response
Designed for Clinicians
Healthcare professional face hazardous working conditions with potential exposures to a variety of toxic and infectious agents requiring respirator use to protect against respiratory infections. Respiratory protection continues to evolve, providing greater protection, convenience and more comfort. Powered respirators provide many advantages over disposable masks and traditional PAPR designs.
Shoulder carriage evenly distributes weight across wearer's center of gravity
Unrestricted maneuverability
Easy donning, doffing and decon – more time for you and your patients
Single button operation at your fingertips
Carriage release hook for quick and safe doffing
Sensory attunement – clarity in hearing and visibility
The logical choice for Administrators
It's essential to keep HCPs safe during patient care and limit respiratory infections. When selecting respirators, healthcare administration should assess durability, appropriateness for the environment and task at hand, comfort, easy of deployment, training resources and availability. SALUS HC delivers on all of these priorities.
Confidence in protection
Manufactured KY, U.S.A
Dedicated training support
Ease of use
High level of acceptance and compliance
Designed for efficient one-person donning, doffing and general operations
Long term savings as compared with disposable respiratory protection
Bullard Tough - exceeds abusive rigorous performance tests
Testimonials
What Clinicians Are Saying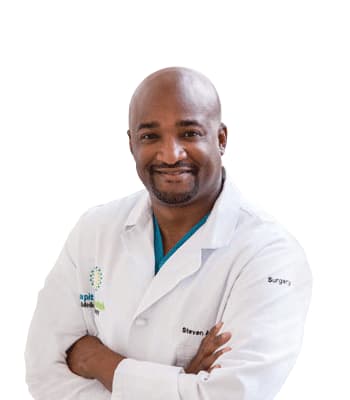 It is so much lighter than the PAPR I had purchased previously… much easier to don and doff. Invisible, you are wearing it on your chest and it doesn't weigh you down.
I like the air that blows in, not as hot and stuffy, it's not breaking down my face, it's not pressing down on my ears, not putting pressure on my face.
When I wear it I feel like I am not carrying any extra weight, the way it's designed feels lighter.
As the infection preventionist, my goals is to find safe reliable products for patient care, a deciding factor, ease, functionality, durability, the SALUS product covers all.
I have been working EMS for 22 years and this was the first PPE equipment that was comfortable to wear, cool, and allowed me to fully do my job without barriers.
Highlights
Weight & Comfort
Go behind the scenes to discover how Bullard designed an extremely comfortable PAPR allowing maximum movement.
Durability
See how SALUS HC lives up to the Bullard Tough legacy and surpasses abusive rigorous tests.
Assemble & Don in Less than 30 Seconds
Find out how quickly SALUS HC is assembled and donned. Timing is everything.
Speech Intelligibility
Learn how the sound quality factored into the design of SALUS HC - allowing clear communication with peers and patients.
Getting to know Salus HC
Zoom In
Instructional Training Videos
Assembly and Disassembly for Cleaning
NIOSH PAPR100-P Standard
PAPR used in the clinical setting are required to have the following attributes:
Suitable for use in sterile field
Good visibility and communication
Ease of donning, doffing, and cleaning
Variable flows based on work rates
Smaller and less bulky
Sensors and alarms that monitor flow and power
Training materials as part of certification
Stockpile & emergency preparedness
NIOSH PAPR100-P
high efficiency particulate filtration strongly resistant to oil aerosols.
A New Class of PAPR Standards
designed for workers in healthcare and public safety.
SALUS HC AWARDS
Get in touch
We'd love to hear from you. Drop us a line or give us a call if you have any questions.
The Office
Address: 1898 Safety Way Cynthiana, KY 41031
USA Toll Free: 877-BULLARD (285-5273)
Phone: +1-859-234-6616
Fax: +1-859-234-8987
Business Hours
Monday - Friday 8am to 6pm (EST)